"Get A Professional Logo Design For Less Than $20 NOW!"
Logo design requires an imaginative graphic design service utilizing suggestive imagery through the visual presentation of words, symbols, colors, and shapes. It creates a more professional image, regardless of company size, and increases consumer awareness of your products and services.
Some of the most successful brand names such as Nike, Coca Cola and McDonald's are ingraned in our minds by the presence of their logos; the Nike "swoosh", the silver ribbon band and hour glass bottle for Coke and the twin arches of the McDonalds "M". We instantly recognize such memorable logos.
Let us learn something from the big boys. If they use logos for their image branding, we should too. If you currently do not have a logo to fit your company needs we are able to assist you in designing a well designed professional logo. Or if the logo you have isn't doing it's job then just maybe it is time for a performance review.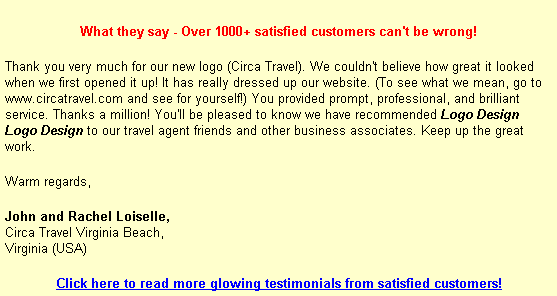 Click here to view our online samples gallery.
Over 100 logo design available for you to see!
Let us create you your Logo at an amazing promotional debut price of $19.90. Hurry! This price would not stay long. For just $19.90, you'll get...

A high quality professionally designed Logo. Your logo will be designed by designers with years of experience in the print and web industry. This is to ensure the quality standard of your logo is at the best

6 copies of your logo in GIF format and GIF transparent at 3 different sizes (Small, Medium and Large) so you could straight away use it on your current web site or e-mail. Save time from resizing them! (These will be compressed for faster download on the web).You'll be able to match transparent GIF with any background.


1 copy of your logo in an editable PNG format (original file) for alterations!

5 Business days turnaround time

"But wait... there's more!"

---
FREE BONUS #1

Unlimited $$$ savings !
A life time membership which entitles you to a 20% discount on any of our design services. This includes- future Logos, Banner Designs, e-Book Covers, Web Design, Flash Design and any other design work at all! We value your return business, thus, would like to "give back" in the form of great savings.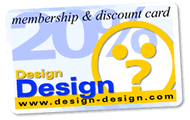 FREE BONUS #2: How to Create a Fortune on the Internet in Just Four Simple Steps!
$37 in value

Internet Millionaire Corey Rudl reveals the secrets of...
"How to choose products that'll be gobbled up by thousands of online buyers -- then monopolize your market and automate 90% of your sales process -- creating a 'hands-free' income that you can maintain in less than an hour per day."
With his new guidebook, "How to Create a Fortune on the Internet in Just Four Simple Steps," you'll build multiple income streams -- repeatedly -- using the same 4-step formula he's personally used to make $6.2 million per year online.
This guide book costs $37 elsewhere, however, we have purchased the license for distributing & reselling it... and the good news is, we're giving it away for absolutely FREE to our customers! Click here to learn more about this fabulous guidebook. We have prepared a whole page dedicated to tell you more about it. It will blow your mind away!
Once you have finished reading through (I'll warn you, there's a lot!), come back here and order your logo! ... go on. I'll wait for you :)
---
At $19.90, you just can't lose! Order now as the next time you visit our web site, these amazing offer may be gone! Remember, this price is only for a short promotional debut! And we don't want you to miss out!....

Warmest Regards,


Nik Efay
BeKwik

PS: Remember... the first impression of your business is important as your business is just one of the millions businesses out there- so make it count with a professional logo!
PPS: Don't forget, the FREE BONUS with the total value of $37 is available for a limited time period only. Don't bookmark this page and come back later - order now so you don't miss out! This FREE BONUS itself will justify your purchase!

---
Order Process: Simple Step 1-2-3 process
Step 1: Click on "Order Your Logo Design" button
Step 2: Enter Credit Card details for payment on our secure server
Step 3: Fill in the logo design form to describe your business!
***We will get back to you in 5 days with the completed design!***