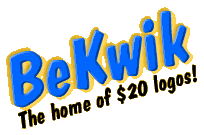 Virtually Free Logo Design
Logo Samples
Low Cost Logos FAQ
Why Low Cost Logos?
Testimonials





Virtually FREE Logo Design!
Includes E-book: How to Create Fortune on the Internet with 4 Simple Steps worth $37

Get it when you order a logo from us!





FREE Report: How to Create Brand Awareness without
Mass Advertising
Get it FREE when you subscribe to our cutting edge newsletter "Brand your Business" below!



Logo Design Articles
Branding Articles
Marketing Articles
Design Articles
Printing Articles
Logo Design Software
Logo design Books



Order NOW - We accept:


.

.


.

.


Welcome to BeKwik.com - Home of $20 logos since year 2000. We provide virtually FREE Logo Design! Tell someone about us- they'll love you for it!

"Use your logo to make your name memorable. A good logo creates a feel, an image, and a brand for your site. It can also lend an air of professionalism to your online creation. First impressions count. When prospects see an impressive logo, it gives the other aspects of your site a head start!." -Nik Efay, Owner BeKwik.com 'Virtually Free Logo Design'

| | |
| --- | --- |
| | |
I have a general idea of a logo I want. How do I tell you guys?
Easy. There are many ways you can do this:
Tell us with words
You can tell us using words in our order form. Most of our customers do this.


Tell us with a fax
If you have a fax machine, do a little sketch/doodle of the design you have in mind and fax it to us. Our fax number is +1 251 252 6228. Some customers do this and was really surprised on how we changed their simple sketches/ideas they had in mind... to a high standard professional looking logo design! Try us!


Tell us with a scan
If you have a scanner and would rather scan your sketches, email us the image file at support@bekwik.com


Tell us with a URL
On the other hand, if you see a logo that you like anywhere on the web, tell us the URL in the order form so we could use the same style to recreate your original logo (not copy it).