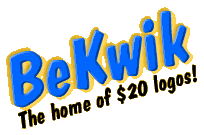 Virtually Free Logo Design
Logo Samples
Low Cost Logos FAQ
Why Low Cost Logos?
Testimonials





Virtually FREE Logo Design!
Includes E-book: How to Create Fortune on the Internet with 4 Simple Steps worth $37

Get it when you order a logo from us!





FREE Report: How to Create Brand Awareness without
Mass Advertising
Get it FREE when you subscribe to our cutting edge newsletter "Brand your Business" below!



Logo Design Articles
Branding Articles
Marketing Articles
Design Articles
Printing Articles
Logo Design Software
Logo design Books



Order NOW - We accept:


.

.


.

.


Welcome to BeKwik.com - Home of $20 logos since year 2000. We provide virtually FREE Logo Design! Tell someone about us- they'll love you for it!

"Use your logo to make your name memorable. A good logo creates a feel, an image, and a brand for your site. It can also lend an air of professionalism to your online creation. First impressions count. When prospects see an impressive logo, it gives the other aspects of your site a head start!." -Nik Efay, Owner BeKwik.com 'Virtually Free Logo Design'

Do you do business cards & letterhead design?
Yes we do. Get back to us once your logo is completed with your name, company address, phone number, fax number, email and any promotional line that you would like to include on these materials.
Email us at support@bekwik.com once you get the final version of your logo!