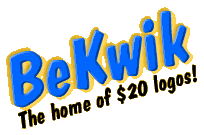 Virtually Free Logo Design
Logo Samples
Low Cost Logos FAQ
Why Low Cost Logos?
Testimonials





Virtually FREE Logo Design!
Includes E-book: How to Create Fortune on the Internet with 4 Simple Steps worth $37

Get it when you order a logo from us!





FREE Report: How to Create Brand Awareness without
Mass Advertising
Get it FREE when you subscribe to our cutting edge newsletter "Brand your Business" below!



Logo Design Articles
Branding Articles
Marketing Articles
Design Articles
Printing Articles
Logo Design Software
Logo design Books



Order NOW - We accept:


.

.


.

.


Welcome to BeKwik.com - Home of $20 logos since year 2000. We provide virtually FREE Logo Design! Tell someone about us- they'll love you for it!

"Use your logo to make your name memorable. A good logo creates a feel, an image, and a brand for your site. It can also lend an air of professionalism to your online creation. First impressions count. When prospects see an impressive logo, it gives the other aspects of your site a head start!." -Nik Efay, Owner BeKwik.com 'Virtually Free Logo Design'

| | |
| --- | --- |
| | |


Adobe Illustrator 10.0
-Provides support for exporting files to Flash (SWF) format and to the scalable vector graphics (SVG) standard
-Specify pixels as a global measurement unit for sizing, editing, and laying out your artwork
-Convert type and graphic objects to editable rectangular or elliptical shapes
-New palette lets you apply transparency to any graphic object, bitmap image, or type character
-Offers integration with Photoshop, GoLive 5, and LiveMotion
Adobe Illustrator 9.0 expands your creative freedom and enhances your productivity with its new Web graphics tools, versatile transparency capabilities, powerful object and layer effects, and other innovative features. Now you can use these fast, flexible tools to transform your creative ideas into sophisticated graphics for use on the Web, in print, or in dynamic media projects.

---